Abstract
Approximately 70 percent of all new cases of bladder cancer are classified as non-muscle invasive, also called superficial bladder cancer. The initial treatment for this stage of bladder cancer is surgical removal of the tumor through a cystoscope (called TURBT). This is often followed by adjuvant (additional) therapy, which reduces the chances of the cancer recurring. Of these, approximately 20 to 25 percent of initially non-muscle invasive cancers will progress to invasive types during the person's lifetime. Recurrence is frequent depending on the presence of several established risk factors: multiplicity, T dimension, prior recurrence. Depending to the risk category patients are directed to different adjuvant treatments. In low risk categories the standard is one shot treatment with chemotherapy without any maintenance therapy. In intermediate risk patients, adjuvant induction therapy and maintenance chemotherapy or immunotherapy for at least one year is recommended. In high risk patients adjuvant induction and maintenance immunotherapy until 3 years is considered the best strategy. In this review data on the different drugs used in this setting will be discussed. The remaining 30 percent of bladder cancers are muscle invasive, and generally require surgery to remove the bladder (cystectomy) and the surrounding organs.
Introduction
Bladder carcinoma (BC) is the most common malignancy of the urinary tract 1. The worldwide age standardised incidence rate is 9 per 100,000 for men and 2 per 100,000 for women (2008 data)1. In 2006, 104,400 incident cases of bladder cancer were diagnosed in Europe, of which 82,800 were found in men and 21,600 in women1. In 2008 BC was the eighth most common cause of cancer-specific mortality in Europe 2. It is a disease that peaks during the third age and urothelial histology is present in about 90% of the cases 3 , 4. The mortality is declining in the last fifteen years 5 possibly reflecting increased standard of care. Tobacco smoking is the most important risk factor for BC, accounting for ~50% of cases 6 , 7. Other risk factors include: occupational exposure to aromatic amine, polycyclic aromatic hydrocarbons, dyestuff printing and rubber manufacture, responsible for about 4% of bladder cancer cases 8, controversial is the role of inflammation and urinary tract infections while there are no doubt about the association between the Schistosomiasis, a chronic endemic cystitis based on recurrent infection with a parasitic trematode, and bladder cancer, particularly squamous cell carcinoma 9 as well as the role of hair dyes or coffee drinking habits 10 , 11 , 12. Increasing evidence suggests that genetic predisposition has a significant influence on bladder cancer incidence, especially via its impact on susceptibility to other risk factors. A recent meta-analysis showed the protective role of a diet rich in vegetables and fruits with a favourable relative risk of 0.7 and 0.8, respectively 13.
Definition of non-muscle-invasive bladder cancer
BC is often diagnosed at an early stage; in the United States during the year 2003, 47% of bladder cancer new cases were stage 0, 22% stage I, 11% stage II, 5% stage III and 6% stage IV 14. Non-Muscle-Invasive-Bladder-Cancer (NMIBC) (pTa, pT1, carcinoma in situ) represents 75-85% of the new cases 15, with 70% pTa, 20% pT1, and 10% of carcinoma in situ (CIS) 16. A papillary tumour confined to the mucosa is classified as stage Ta according to the Tumour, Node, Metastasis (TNM) classification system. Tumours that have invaded the lamina propria are classified as stage T1 while flat, high-grade tumours that are confined to the mucosa are classified as CIS (Tis). Most NMIBC (60-70%) have a trend for recurrence after transurethral vescical and some are at high risk for progression to muscle invasion 17 so the NMIBC is a heterogeneous group of tumors with different biological properties.
Risk Factor for Recurrence and Progression
The classic way to categorise patients with Ta, T1 tumours with or without concomitant CIS is to divide them into risk groups based on prognostic factors derived from multivariate analyses. According to a metanalysis of 19 studies 18 in 2596 patients treated with different drugs and regimens 19 the most important risk factors for recurrence are the number of synchronous tumours previous NMIBC and tumour size. From these data it is possible to score patients in 3 groups (low, intermediate and high risk of recurrence); low risk group has a recurrence rate at 5 years of 31% while high recurrence group has a recurrence rate of 78%. Other authors, according to Fernandez-Gomez et al (CUETO Club Urologico Espanol de Tratamiento Oncologico) 20 , 21 categorize patients according to the presence of 4 risk factors (multiplicity, female gender, prior tumour, presence of carcinoma in situ). Progression to muscular invasive cancer is less frequent than recurrence: at 5 years, progression is reported up to 45% of the cases, depending on the different category risk groups 22. According to Sylvester et al 23, the most important risk factors for progression are T category, presence of concomitant CIS, tumor grade, resulting in a EORTC (European Organisation for Research and Treatment of Cancer) score that assigns NIMBC disease to three different progression risk categories (low, intermediate and high risk of progression). Moreover, Fernandez et al 24 found in a multivariate analysis that recurrence at first cystoscopy, stage, grade, and an history of recurrent disease are the most important progression prognostic factors: in this analysis the presence of concomitant CIS at first diagnosis was statistically significant only at univariate analysis. The role of molecular markers has not been fully explored: according to some data expression of fibroblast growth factor receptor 3 (FGFR3) seems correlated to a favorable prognosis 25 , 26 , 27. Some novel parameters based on pathological investigation of resected tissue have been evaluated and considered for subclassification and prognostic purposes such as the depth and extent of invasion into the lamina propria (T1 substaging), the presence of lymphovascular invasion, detection of the micropapillary variant of urothelial carcinoma as a poor prognostic factor 28 , 29 , 30 , 31 (Table I).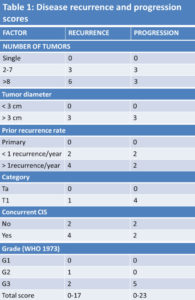 Based on available prognostic factors and particularly data from the EORTC risk tables, the assignment of patients to a specific risk category for recurrence or progression is considered crucial for facilitate treatment recommendations and the choice of the adequate adjuvant intravesical therapy (Table II).
Treatment
Surgical Treatment
Trans uretral resection (TUR) represents the first step for diagnosis and treatment 32 , 33 , 34 , 35. It should be performed with complete excision of NMIBC until deep muscle. A single resection is acceptable for lesion less of 1 cm, while multiple treatments are needed for larger lesions. Residual tumor after resection of the T1 cases was found in 33-53% 36 , 37 , 38 , 39 , 40 , 41. The results of an EORTC phase 3 study, showing a wide range of recurrence rate in multifocal NMIBC among the several centers involved in the trial (7-46% at 3 months), suggest a difference in TUR effectiveness in the different institutions 42. In a recent study re-TUR was performed in 83 patients. Residual tumor was found in 53% of pT1 and in 27% of pTa NMIBC, often in the same site of the previous resection (81%) 43. In pT1 NMIBC the prognosis largely depends on the pathology at time of the second TUR. Re-TUR is considered important also to predict response to adjuvant treatment. In fact, according to Herr et al 44, there was a better response to BCG after a re-TUR than in patients that received only one TUR, probably due to a more radical surgery and accurate staging 45 , 46. A re-TUR is considered mandatory if the first TUR is incomplete, with the absence of muscle in the specimen, and in case of multiple, large, pT1, G3, high risk NMIBC12. Excluded from re-TUR are the patients with TaG1 at diagnosis and multiple recurrent TaG1. Re-TUR is recommended 2-6 weeks after the TUR and should include a resection in the site of previous tumor 47. Immediate radical cystectomy should always be considered for NMIBC high risk patients, including those with multiple recurrent high grade tumor, pT1 high grade tumor, high grade tumors with concomitant CIS, particularly after BCG failure. Some data suggest that deferred cistectomy may decrease disease-specific survival 48.
Medical Treatment of NMIBC
Although state-of-the-art TUR by itself can eradicate a Ta, T1 tumour completely, these tumours commonly recur and can progress to MIBC. It is therefore necessary to consider adjuvant therapy in all patients according data from the EORTC risk tables (Table 2). In this section we review the clinical data available regarding the intra-vesical medical treatment of NMIBC. Data are based on a PUBMED search performed in February 2014.
Intravesical Chemotherapy
Several antineoplastic agents have been tested for the treatment of non-muscle-invasive UBC. Mitomycin C (MMC) is the most commonly used intravesical chemotherapy to date. Alternative agents are gemcitabine, doxorubicin, and epirubicin (not approved for clinical use in North America).
Mitomycin C (MMC)
MMC is a chemotherapeutic agent that acts through a mechanism of action not completely known, in part is an alkylating agent that inhibits the synthesis of DNA through the induction of cross internal links. Its high molecular weight (334 kDa) makes it ideal as an intravesical agent 49 , 50. Myelosuppression is rare (0.7%) 51 for its low systemic absorption. The chemical cystitis is the most frequent side effect and has been reported in 41% of cases 52. MMC was evaluated as monotherapy compared to TUR alone in numerous studies in various modes and setting of treatment (different risk groups, such as single instillation after TUR, as maintenance therapy). Moreover, MMC was tested at doses between 20 and 60 mg diluted in 0.9% saline solution and in a concentration of between 0.5 and 2 mg/ml 53. From the early 80's MMC has been used in several phase I-II studies including low and high risk patients 54 , 55 , 56. In a metanalysis of 5 controlled studies and 859 patients treated with MMC it appears that MMC treatment induces an overall advantage of 15% in term of short term recurrence rate compared to TUR alone (37 vs. 52%), although at 5 years the recurrence rate was similar 57. A phase III randomized trial 58, 502 patients were randomized in 3 arms: no treatment after TUR, a single instillation (40 mg) within 24 hours post-TUR and an early instillation followed by four consecutive 40 mg instillations every three months. An initial reduction in recurrence rate was demonstrated in the third arm with an improvement in disease free interval, although after a 7-years follow up the advantage was not statistically significant compared to a single early instillation, indicating the ineffectiveness of maintenance therapy 59. However, the role of maintenance therapy is still debated with discordant data coming from several metanalisys and controlled trials. Nilsson et al 60 analyzed 1774 patients in 9 randomized trials, showing an absolute benefit of 16% in term of reduction in recurrence rate for maintenance therapy (38 vs. 54%), while Solsona et al 61 , 62, in two consecutive randomized EORTC trials, investigating the role of maintenance chemotherapy (MMC 30 mg, and doxorubicin 50 mg) for 6 months (short maintenance) or for 1 year (long maintenance), was not able to identify any advantage for the maintenance groups in term of recurrence rate reduction compared to an initial single early instillation made immediately (within 24 hours) after TUR. Combined data from Medical Research Council and EORTC, comparing intravesical maintenance chemotherapy to TUR alone, has underlined that chemotherapy was only effective in reducing the recurrence rate and not progression rate, but again these studies included patients with different risk categories 63. In a non recent prospective trial 131 low risk NMIBC patients were randomized to receive a single early instillation of 30 mg MMC or no therapy post-TUR. At a short term follow up of 24 months adjuvant treatment arm was able to prolong the recurrence-free interval, although at a longer follow-up of 48 months no statistical difference was observed 64. In a recent metanalysis conducted by Sylvester et al 65, with several controlled studies and 427 NMIBC patients treated with MMC, the authors conclude that MMC administrated within 24 hours after TUR reduces the recurrence rate compared to TUR alone (36.7 vs. 48.4%), confirmed in another study, although small, also in multifocal tumours 66. In the intermediate risk setting a randomized trial compared an early single MMC instillation with maintenance treatments with no statistically difference in term of reduction of recurrences 67. What about the timing of MMC administration after TUR? A very early administration of MMC, within 24 hours from TUR and even earlier within 6 hours or during TUR seems to correlate with a significant better effect on the reduction of early recurrences both in low and intermediate risk NMIBC 68 , 69. 131 low risk patients were randomized to receive a single immediate instillation MMC (30 mg) or TUR alone, at 1 year all patients were recurrence free, at 2 years of follow-up an advantage in favor of the immediate instillation was present, while no statistically significant difference was present at a longer follow-up 70. Absolute contraindication to an early instillation is represented by a real or suspected bladder perforation during TUR, while a relative contraindication is represented by a deep and wide resection during TUR with significant bleedin 71 , 72. What is the best way of administration? A randomized trial by Au and coworkers 7362, tested MMC instillation in specific conditions; the hypothesis was to improve MMC effectiveness by increasing the bladder concentration through the alkalinization with sodium bicarbonate of the urine and a decrease of the bladder flow through ultrasound controlled catheterization. In this study 230 patients were randomized to receive this experimental schedule at 40 mg dose versus a control arm with 20 mg weekly for 6 weeks. At a 5-years follow up the median time to recurrence was in favor of the experimental arm with alkaline urine (29.1 vs. 11.8 months) with an higher proportion of recurrence free patients (41 vs. 24.6%) 74. Another small study investigated the option of an intensive schedule of MMC instillation in 40 intermediate risk NMIBC patients that underwent 3-time per week administration for 2 consecutive weeks after TURV. Low local and systemic toxicity was found, with interesting results in term of recurrence free rate and median time to recurrence; prospective trials are needed to confirm these data 75. According to some authors MMC is considered potentially superior to the other chemotherapy agents in reducing recurrence rate. However, prospective trials directly comparing different chemotherapy agents are scanty in the literature. In conclusion, MMC is safe and seems effective in low and intermediate risk NMIBC patients being able to decrease the recurrence rate when given as an early instillation after TUR. Discordant data are available regarding the role of maintenance therapy (one to three years) versus shorter therapy (6 weeks or longer). Maintenance was found ineffective in reducing progression rate and it seems to confer only a small advantage in reducing recurrence rate.
Options for improving efficacy of intravesical MMC
Some promising data have been presented about enhancing the efficacy of MMC using microwave-induced hyperthermia (Synergo) or electromotive drug administration (EMDA) in patients with high-risk tumours. The current evidence, however, is limited. The electromotive administration of MMC (EMDA) is a method to improve absorption of the drug through the interstitial cell layer. An electric current (about 15-30 mAmpere) is delivered in order to increase cell layer permeability. In vitro experiments have shown higher cell concentration of the drug compared to normal intravesical instillation 76 , 77. In a phase II study (28 multifocal pTa-1, G1-2 NMIBC patients) EMDA (MMC 40 mg in 20 min with 15 mA electricity) has been compared to weekly 40 mg MMC instillation for 8 weeks with an advantage in term of reduction of recurrence rate (60% vs. 33%) 78. Another small trial tested EMDA in 13 high risk (pT1G3 and Tis) BCG refractory patients. At 15 months follow up, 31% of patients were recurrence free 79. Similar results were achieved with EMDA (complete response rate at 3 and 6 months 53% and 58%, respectively) and BCG (56% and 64%), both with a statistically significant difference versus MMC passive diffusion (28%, p = 0.036 and 31%, p = 0.012). At a median follow-up of 82 months the authors reported no difference in term of recurrence-free interval (35 months for MMC EMDA, 26 months for BCG and 19.5 months for MMC passive), progression to invasive cancer, cancer specific and overall mortality between MMC electromotive administration and BCG. The authors reported also lower local toxicity of electromotive administration versus BCG 80. According to the hypothesis that BCG-induced inflammation and this increases MMC uptake, a prospective trial has been performed with this combination. Twohundred-twelve NMIBC pT1 patients were randomized to receive 6 weekly instillations of BCG 81 mg or 3 cycles of a sequential schedule (2 weeks BCG followed by an electromotive administration of MMC) with overall 9 instillations. Recurrence free patients after induction therapy underwent maintenance therapy for 10 months with the same schedule. At a median follow-up of 88 months the experimental arm showed an higher disease free interval (69 vs. 21 months, p = 0.001) and lower recurrence rate (41.9 vs. 57.9%, p = 0.001), with a further advantage in terms of reduction of progression (9.3 vs. 21.9%, p = 0.004), cancer specific mortality (5.6 vs. 16.2%, p = 0.011) and overall survival (21.5 vs. 32.4%, p = 0.453) 81. Electromotive administration of MMC has also been tested as neoadjuvant treatment for low risk NMIBC patients. One-hundred-sixty-seven NMIBC pTaG1-G2 patients were randomized in three arm: TUR alone, a single MMC (40 mg) instillation before TUR and a single electromotive administration (MMC 40 mg in 30 min at 20mA) before TUR. At a median follow up of 84.7 months the authors demonstrated a significant advantage for experimental arm in term of reduction of recurrence rate and of disease free interval 82.
Antracyclines
Anthracyclines, doxorubicin and its derivative epirubicin, are chemotherapic agents that inhibits Topoisomerase II. Their high molecular weight (580 kDa) reduces the systemic absorption and therefore the toxicity; doxorubicin seems to be more toxic than epirubicin due to the more frequent appearance of chemical cystitis (28.8%), allergic reactions (0.3%), gastrointestinal side effects (1.7%) and fever (0.8%) 83. Doxorubicin is used in a dose ranging from 30 to 100 mg with a weekly or three weekly schedule 84 with an overall reduction in tumor recurrence of 18% compared to untreated controls 85 , 86 , 87 , 88 , 89 , 90 , 91 , 92. Maintenance therapy (up to 2 years) was not superior to 6 weekly instillations of 50 mg doxorubicin in term of reduction of recurrences 93. Doxorubicin has not been found effective in reducing tumor progression 94. Reduction in recurrence rate with weekly or a single dose post-TUR doxorubicin instillation has been demonstrated in many prospective trials 95 , 96 , 97 , 98 , 99 , 100 , 101. In a phase I-II study in CIS G3 NMIBC patients, epirubicin (at escalating doses of 30, 50 and 80 mg) induced 70% of cases recurrence free, with a mean duration of complete remission of 22.4 months (range 7-50 months) 102. In a randomized trial the two anthracyclines have been compared in 114 patients treated over a 1-year period. At the 1 and 2 year follow up there was no statistically difference in term of tumor-free rate 103. Another trial compared the effectiveness of the two anthracyclines randomized 253 patients in 4 arms: epirubicin 50 mg, epirubicin 80 mg, doxorubicin 50 mg for 8 consecutive weeks, no treatment after TUR and monthly maintenance for 1 year. Recurrence rates were 25, 17.6, 36.7 and 65.6%, (p < 0.05 in favor of both doses of epirubicin) with a mean recurrence free interval of 16, 15.4, 18.9 and 6.3 months. Epirubicin induced a lower toxicity than doxorubicin even if utilized at the higher dose 104. The effectiveness of epirubicin has been shown also as an early (within 24 hours) single post TUR instillation. Epirubicin has been proposed as the standard treatment for low risk NMIBC and as a treatment option for intermediate and high risk NMIBC with a reduction of 39% in recurrence rate according to the main meta-analysis 105. However, data regarding the reduction in recurrence rate in intermediate risk NMIBC are scanty. In one study 106 an early single epirubicin 50 mg instillation within 6 hours from TUR was poorly effective in tumor larger than 5 mm. In another randomized multicenter trial in 219 low/intermediate risk NMIBC, an early single epirubicin 80 mg instillation post TUR versus TUR alone without no further adjuvant treatment induced a statistically significant reduction of recurrence. At a median follow-up of 3.9 years, 62% of patients in the epirubicin group versus 77% in the TUR alone arm had recurrence (p = 0.016). However, the advantage was described only in primary, solitary tumors, while the same benefit was not evident in patients with recurrent or multiple tumors (intermediate-high risk for recurrence) 107. Therefore, in intermediate/high risk NMIBC and in particular in large tumor, multiple recurrences and multiple primitive tumors, due to the small number of patients included in the studies, the role of an early single instillation of epirubicin is debated 108. A recent randomized trial compared three epirubicin schedules in 731 intermediate and high risk patients; patients were randomized to receive 4 consecutive weekly treatments followed by 5 monthly administration (standard schedule), the same treatment with in addition an early instillation within 48 hours, or a similar treatment as in the first arm with additional instillations at 9 and 12 months. At a follow-up of 5 years no difference has been recorded among the three groups in term of recurrence (44.4%, 42.7%, and 45.0% recurrence free, respectively) and progression rate (90.0%, 87.7%, and 88.2% progression free) 109. Few studies have directly compared the main chemotherapy agents. No phase III study has effectuated. A small non recent phase II trial utilized epirubicin and mitomycin C in all categories. Sixty patients were treated per arm and the two drug had similar effectiveness in term of remission rate. In conclusion, epirubicin is as effective and less toxic than doxorubicin, but actually its real clinical application is controversial and it seems limited to a single instillation post TUR or 6 weekly therapies only in low risk patients. Epirubicin maintenance therapy seems not effective. Further trials are needed to clarify its role in NMIBC management.
Gemcitabine
Gemcitabine is an antimetabolite chemotherapy agent that causes cell apoptosis through its incorporation into RNA and DNA. Gemcitabine is widely used systemically in infiltrating bladder cancers as adjuvant treatment or for advanced disease. Safety of intravesical gemcitabine has been tested in many phase I studies showing that the maximum doses utilized (2000 mg total 40 mg/mL in a 50 mL volume) is effective with a favorable toxicity profile due to minimal systemic absorption. In phase I studies no grade 4 hematological toxicity was recorded while hematuria, dysuria, headache, fatigue 110, hand-foot syndrome 111, hypogastric discomfort and grade 1 bladder spasms were reported 112. A phase 2 multicenter study investigated the effectiveness, local and systemic tolerability of gemcitabine. One-hundred-sixteen intermediate and high risk NMIBC patients (refractory and not refractory to BCG) were treated with a gemcitabine 2000 mg weekly schedule for 6 weeks after TUR. 12 % of the patients reported urinary urgency, 5.1% dizziness and slight fever, 0.8% abdominal pain with ulcerative lesions at cystoscopy. At 1 years follow-up 74.6% of patients were disease free, while recurrences were observed in 25.4% of the cases, with a mean recurrence free time of 7 months. At univariate analysis the drug was more effective in NMIBC patients at first diagnosis (p = 0.04), in untreated cases (p = 0.03), and pTa patients (p = 0.0018). In BCG refractory patients the authors reported a complete response rate of 75% in intermediate risk NMIBC (24 patients) and of 43.7% in highrisk NMIBC (16 patients) 113. In another phase 2 study only in BCG-refractory NMIBC patients, 30 patients underwent a twice weekly gemcitabine (2000 mg) instillation for three consecutive weeks, for two times with a week of rest 114. Patients were evaluated at 8 weeks, then every 3 months for 1 year. At a median follow-up of 19 months, 50% of the patients were in complete response with a 1-year recurrence-free survival rate of 21%, while relapsed patients had a median recurrence free survival time of 3.6 months. Twenty-one% of the complete responders patients were recurrence free at 1 year with a time to recurrence of 19 months. Finally, 11 patients underwent to radical cystectomy 115. Shorter schedules of gemcitabine instillation were tested in Ta-T1 G1-2 (low or intermediate risk) NMIBC. Twenty-eight patients underwent 4 weekly instillations of 2000 mg gemcitabine. The complete response rate was 46.6% (absence of macroscopic residual lesion at cistoscopy after six weeks from the first instillation and negative urinary cytology). The median time to first recurrence was 9.1 months, with 32.2% of the patients recurrence free at 1 year 116. A chemo-immunotherapy combination showed interesting results in a preliminary prospective study. Fifty-nine percent of the patients were treated with 6 weeks BCG instillation while the remaining patients were treated with two gemcitabine instillations, the first immediately after TUR (1000 mg), and another a week later (2000 mg), followed by 6 weeks of BCG instillations. A median recurrence free period of 24 months was observed in the combination arm compared to 19 months in the BCG arm. At 6 and 9 months chemo-immunotherapy showed a lower recurrence rate, but no difference between the two arms was found at a longer follow up. These data suggest that gemcitabine-BCG combination is a promising strategy to prevent early relapse and to increase recurrence free period 117. More data are needed. Gemcitabine effectiveness in BCG refractory NMIBC has been investigated in several trial. In a randomized phase III trial gemcitabine (6 weekly instillations) was compared to MMC (4 weekly instillations), followed in both arms by 10 monthly instillations of maintenance therapy in responding patients. At a follow-up of 36 months, out of 109 evaluable patients 72% (39/54) in gemcitabine arm were recurrence-free versus 61% (33/55) in MMC group. MMC arm also showed an higher progression rate than gemcitabine in recurrent patientsand worse tolerability (higher chemical cystitis rate). According to these authors gemcitabine represents a preferable option in BCG-refractory NMIBC compared to MMC 118. In conclusion, gemcitabine is another intravesical chemoterapy agent with mild toxicity. It has been investigated in intermediate/high risk patients with interesting results. Gemcitabine seems to be more effective than MMC in BCG-refractory NMIBC. The interesting schedule with combined chemo-immunotherapy needs larger randomized trials.
BCG
Intravesical immunotherapy is based on BCG (Bacillus-Calmette-Guerin) instillations after TUR. BCG is a modified strain of Mycobacterium Bovis that is able to induce an immunereaction after contact with bladder cells; the real anticancer mechanism is not yet well known. Different routes of BCG administration (percutaneus, intralesional injection, oral, intravesical and percutaneous combination) have been tested in several studies. Combined intravesical and percutaneus combination was to be not found superior to intravesical BCG alone in randomized studies 119 , 120 , 121 , 122. Local and systemic sides effects occur more frequently with intravesical BCG therapy than in patients treated with chemotherapy, as reviewed by Lamm 123, Witjes 124, Houghton 125. About 75% of patients treated experience chemical cystitis, haematuria and irritative voiding symptoms. Less frequently infections, as prostatitis and epididymo-orchitis, have been described with the need of BCG withdrawal. About 40% of patients suffers of systemic side effects as flu-like syndrome and fever and rarely sepsis. It is necessary to interrupt BCG administration in about 20% of cases. Most side effect appears during the induction therapy and in the first part of maintenance. According to several studies only one third of patients was able to complete the 36-months treatment. Absolute contraindications to BCG treatment are the occurrence of traumatic catheterization, TUR within previous two weeks (risk of systemic infection), macroscopic haematuria, urethral stenosis, prior BCG related sepsis, immunosuppression, urinary tract infection, active tuberculosis 126. Some trials have explored the reduction of the dose in patients intolerant to the full dose. In an initial study, 500 patients of all stages and grades were treated with a full BCG dose (81 mg) compared to one-third of the dose, for 12 instillations. The reduced dose showed a better toxicity profile, but it was not found equally effective in high risk patients compared to the full dose 127. This data were in contrast in accordance with those fonded in a smaller study in which similar effectiveness was found between 81 mg and 27 mg 128. Another trial in 430 intermediate risk patients compared 12 weekly BCG instillations at the dose of 27 mg, or 13.5 mg compared to 30 mg MMC. The lower dose was found not effective, while the 27 mg BCG dose was more toxic than MMC. BCG is derived from different strains and in some studies no difference was found among them in terms of effectiveness and toxicity 129 , 130 , 131. The hypothesis that early occurrence of local or systemic side effects leads to a longer time to first recurrence has not been confirmed in clinical trials 132. BCG is usually administrated 3-4 weeks after TUR as an induction therapy of 6 weeks followed by a maintenance period of 3 consecutive weeks every 3 or 6 months at variable duration from 1 to 3 years 133 , 134. BCG reduces recurrence rate versus TUR alone 135 , 136 and it is superior to chemotherapy according to the main metanalysis 137 , 138 , 139 , 140 . Data indicate that the maintenance period is needed to obtain an advantage of 32% versus MMC in terms of recurrence and progression risk. In the Sylvester's meta-analysis116 with 4863 patients from more than 20 randomized trials with BCG, the reduction in progression rate has been observed only in the trials where maintenance treatment was given. At a median follow up of 2.5 years only 9.8% of the patients under BCG maintenance treatment progressed versus 13.8% in the control arms. Maintenance BCG treatment was found particularly effective in papillary intermediate-high risk NMIBC (only 6% progressed) and in patients with CIS (only 14% progressed) 141. BCG maintenance was found very effective in patients with CIS compared to MMC and other chemotherapic agents. In a recent meta-analysis with 700 CIS patients it has been underlined that BCG allows short and long term advantages compared to chemotherapy with a complete response rate of 68% versus 51% (p = 0.0002) 142. In these patients the recurrence rate was in favor of BCG compared to chemotherapy. At a median follow up of 3.6 years 47% of BCG maintenance patients were disease free versus 26% of those treated with chemotherapy. Furthermore, 40-60% of patients who failed after BCG induction treatment responded to a second BCG induction treatment 143. In conclusion, in intermediate risk NMIBC BCG maintenance treatment for one to three years has an higher activity compared to chemotherapy, particularly in pretreated and recurrent patients. In high risk patients, BCG maintenance treatment is able to prevent tumor relapse and progression in a significant proportion of patients. In the cases with carcinoma in situ, although BCG is effective, the option of radical cystectomy should always be taken into account 144.
Conclusions
Although bladder carcinoma is often diagnosed at an early stage (NMIBC) there is an high rate of recurrences and progressions to invasive cancer. TUR is crucial for both diagnosis and management of NMIBC; it is needed to plan therapy according to grade, histology and deep muscle involvement 145 , 146 , 147 , 148 , 149. Adjuvant therapy is prescribed to reduce the recurrence rate (31-78% at 5 years) and progression risk (1-45% at 5 years). Re-TUR is strongly recommended in T1 NMIBC particularly when the resection has not reached the deep muscle. The type of intravesical adjuvant therapy should be based on the risk groups shown in Tables I, II, III, IV.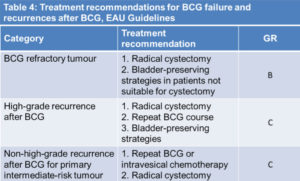 One shot chemotherapy instillation within 6-24 hours after TUR is recommended in tumours presumed to be at low or intermediate risk. Early therapy is effective in reducing recurrence rate in low risk NMIBC patients, where no further treatment seems needed. In patients with intermediate-risk Ta T1 tumours, one immediate instillation of chemotherapy should be followed by 1 year maintenance immunotherapy or chemotherapy. In these patient chemotherapy was found effective in reducing the risk of recurrence but not the risk of progression instead of the immunotherapy. The real role of chemotherapy maintenance on progression is debated and data do not support this strategy. In patients with high-risk tumours, full-dose intravesical BCG for 1-3 years is indicated. In patients recurrent after BCG failure gemcitabine treatment seems more effective than MMC when a contraindication to cystectomy is present. The schedules of treatment with sequential chemo-immunotherapy and electro-modulated MMC seems very promising but need larger trials. A great need for improvements is still awaited for the treatment of patients with NMIBC. Apart from defining the best regimen with the available drugs, efforts to increase efficacy have included several promising attempts to introduce new agents to intravesical therapy, to combine them with established agents, or to modify current regimens. New urine molecular marker tests are under investigation for initial diagnosis, early detection of the recurrence and as predictive factor for response to intravesical therapy; NMP22, Immunocyt and Urovysion seems the more close to the clinical practice 150. Fluorescence-guided transurethral resection based on 5-aminolevulinic acid is a promising technique able to reduce the residual tumor tissue after TUR and possibly to determine a decrease in recurrence rate 151. Promising new drugs and schedules of adjuvant intravesical therapy are under investigation. Immune-chemotherapy and EMDA MMC combined with BCG are in an advanced phase of investigation; other newer combinations including BCG-Interferonα-2B, RAD001 Gemcitabine, BGC-Sunitinib are now tested in ongoing trials. Also a new derivative strains from bacillus tuberculosis, the EN3348 (Mycobacterial Cell Wall-DNA Complex), is compared to MMC in BCG failure setting in an ongoing clinical trial 152.
Conflict of Interests: The Authors declare that they have no conflict of interests.
References