Aims
World Cancer Research Journal (WCRJ – ISSN 2372-3416) is an open access international, peer-reviewed Journal that considers high-quality articles on novel aspects of cancer research. The Journal welcomes submissions concerning the molecular and cell biology of cancer, oncogenes, carcinogenesis, virus and cancer, immunotherapy, complementary and alternative medicine (CAM), cancer survivors, cancer rehabilitation, human nutrition and lifestyle and cancer and pollution and cancer. Particular attention will be given to research articles from emerging Countries.
WCRJ publishes reviews, original research papers, short communications and case reports of particular interest. Our aim is to encourage scientists to publish their results in as much detail as possible. There is no restriction on the length of the papers. The full experimental details must be provided so that the results can be reproduced.
WCRJ will consider manuscripts for publication that provide novel insights into the impacts of cancer on human health. This includes manuscripts describing the outcomes that have relevance to human health.
If authors are unsure whether their manuscript falls within scope for consideration for publication in WCRJ they should contact the journal by email (editor@wcrj.net) for an opinion prior to submission.
Scope
Consequently, the scope of the Journal is to inform the scientific community about all innovative aspects regarding cancer disease.
WCRJ is divided into different interest areas coordinated by a senior editor.
Manuscripts are revised by three or more field experts and, once accepted, are published expeditiously. Indeed, starting from 2019, WCRJ has moved to a continuous publication model, with articles being published on an ongoing basis.
Articles are posted online as soon as they have completed the production process in a fully citable form associated with a universal digital object identifier(DOI). All full-text articles published in WCRJ are freely available to readers.
Journal History 
2014 WCRJ inaugural issue is released, it is initially published as a quarterly journal.
2014 WCRJ is accepted for indexing by Google Scholar.
2015 WCRJ is accepted for indexing by Emerging Sources Citation Index (ESCI) in Web of Science (Clarivate Analytics).
2018 WCRJ received DOI number.
2019 WCRJ is published bimonthly thanks to the increasing number of articles submitted.
2019 WCRJ is suggested by the Health Sciences Library System (HSLS) of the University of Pittsburgh.
2019 WCRJ got 8 H-index (WOS – Clarivate Analytics).
2019 WCRJ is included in EBSCONET catalogue: research databases for academic libraries, school libraries, public libraries, medical institutions, corporations, and military institutions.
2020 WCRJ content is preserved by CLOCKSS.
2020 WCRJ has an H-index of 10 (WOS – Clarivate Analytics).
2021 WCRJ has been included in Copernicus.
2021 WCRJ has been included in DOAJ.
2021 WCRJ got 13 H-index (WOS – Clarivate Analytics).
2022 WCRJ is pleased to announce its inclusion in SCOPUS (13-07-2022).
2022 WCRJ got 14 H-index (WOS – Clarivate Analytics).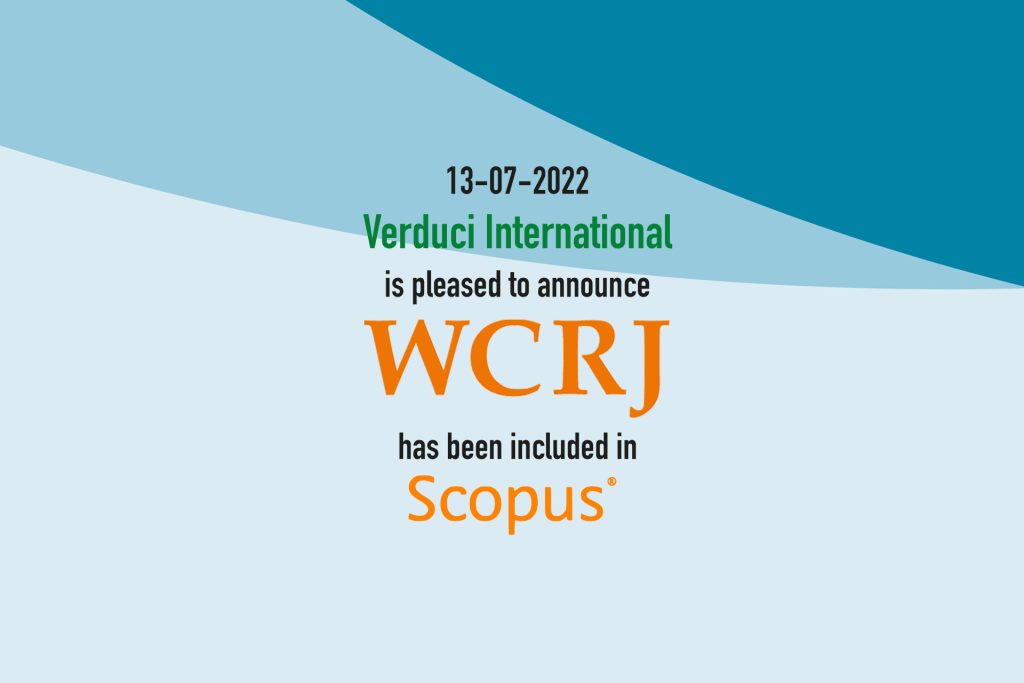 Manuscript procedure time
The average time during which the preliminary assessment of manuscripts is conducted: 60 days
The average time during which the reviews of manuscripts are conducted: 45 days
The average time in which the article is published: 90 days